COVID-19 UN Socioeconomic Response and Recovery Framework
The COVID-19 pandemic and the subsequent global recession is creating an unprecedented health and socioeconomic impact on the Maldives. The number of infected cases has increased to 3809, with 16 deaths, as of 31 July 20201. The sudden halt of international tourism brought an unprecedented economic shock, severely weakening the fiscal and external position, threatening the economic and developmental gains in the Maldives2, increasing food insecurity due to disruptions in the supply chain. Social and livelihoods costs to people are immense: children's learning are being severely affected, and people have lost incomes and require urgent protection.
As the crisis continues to prolong, it deepens the impact of social and economic aspects, and UN Maldives is at the forefront of supporting the government's efforts to recover better. This Socioeconomic Response and Recovery Framework (hereafter 'the Framework') is developed in parallel with the Government's National Resilience and Response Task Force, firmly anchored to the national recovery measures, and cognizant of the government's Strategic Action Plan. The Framework will be a living document, concurrently following the outcomes and recommendations from the ongoing sectoral and target group assessments and priorities defined by the government.
The Framework pays special attention to Maldives' unique vulnerabilities as a Small Island Developing State (SIDS); the impact on livelihoods; Micro, Small and Medium Enterprises (MSMEs); the tourism sector; and the vulnerable groups that are defined in the UN Maldives' report on 'Addressing the Socio- Economic Impact of COVID-19 on the Maldives'; and ensures that recovery is sustainable and inclusive, green, resilient and cohesive.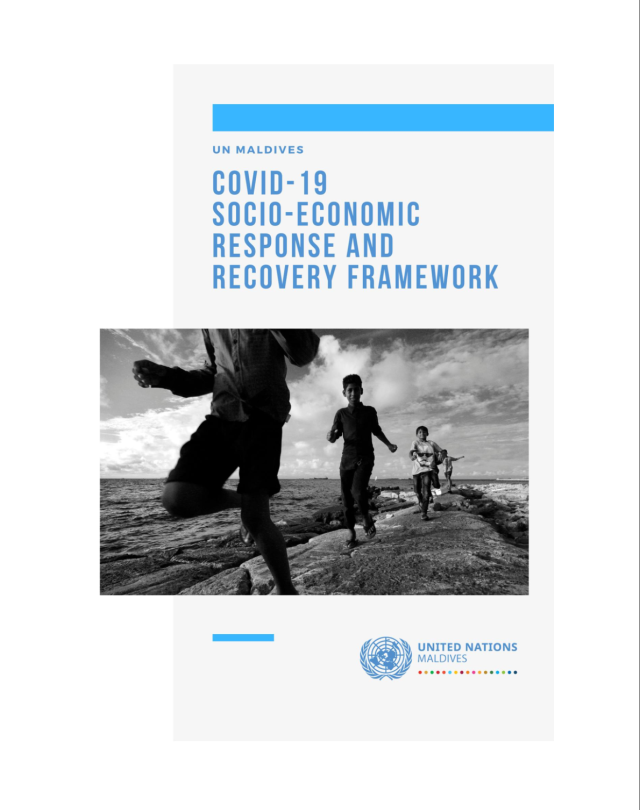 Goals we are supporting through this initiative