Common Country Analysis Maldives
Following the repositioning of the UN Development System by UN Member States, the UN system in the Maldives' is developing a Sustainable Development Cooperation Framework (UNSDCF) as its planning and implementation instrument in support of the 2030 Agenda for Sustainable Development (2030 Agenda), with a commitment to leave no one behind and in line with Maldives human rights and other international obligations. It will outline the UN's collective response for 2022-2026, to national development priorities as contained in the Government's Strategic Action Plan (2019-2023), COVID-19 National Resilience and Recovery Plan 2020-2022, and in line with the Sustainable Development Goals (SDGs).
The UNSDCF will support economic and social transformation, and the development of an equal, inclusive, resilient, and peaceful society through sustainable development strategies specific to Maldives' country context and leveraging financing for achieving the SDGs. The UNSDCF will be centred around a set of priority areas where the UN will contribute to Maldives' development process over the next five years. These priority areas will be identified, in consultation with the Government and other stakeholders based upon the findings of this CCA, the UN's comparative advantages vis-à-vis the Government and other development actors.
These preparations are informed by an independent evaluation of the UN Development Assistance Framework (UNDAF) 2016-2020. This Common Country Analysis (CCA) is the UN system's independent, impartial, and collective assessment and analysis of the country situation, providing insights to guide the development of the new UNSDCF. The CCA follows the conceptual framework and structure set out in the UNDSG guidance. The format has been adapted slightly to reflect the organisation of nationally available information.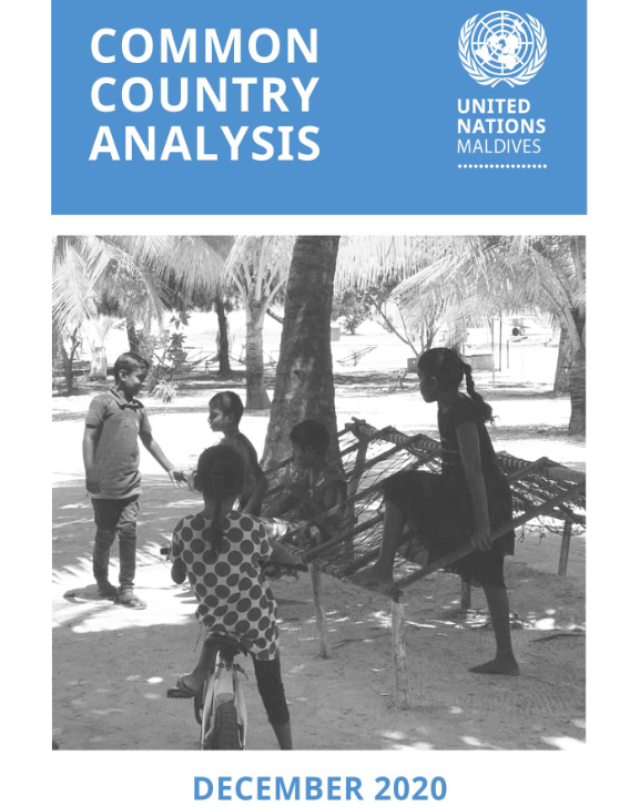 Goals we are supporting through this initiative