"I live to see my patients fully recover and go home with a smile on their faces"
Dr. Mohamed Ali tells us his story and the future he aspires to create for Maldives beyond the COVID-19 pandemic.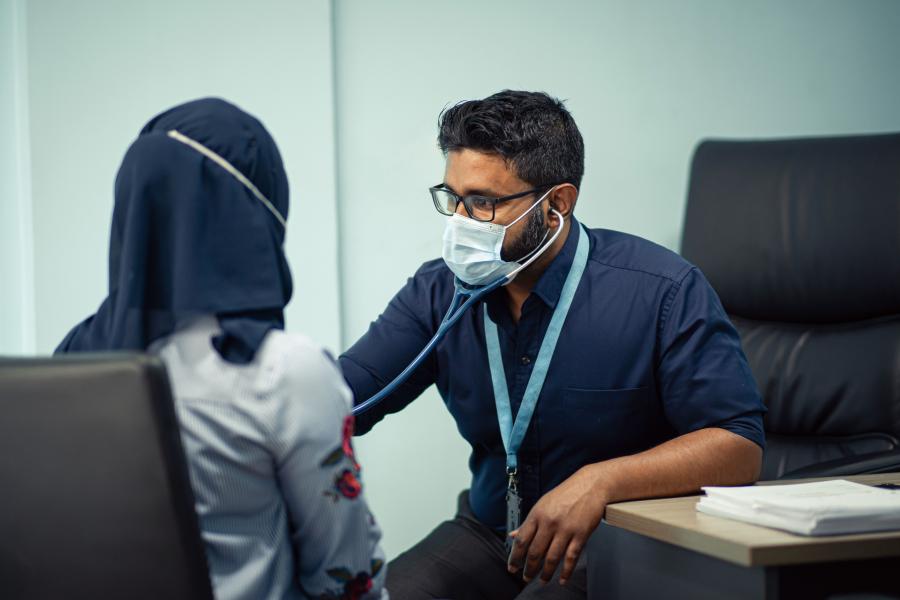 Photo | Publicity Bureau
The year 2020 changed how we look at life significantly. We saw the disease infecting people rapidly across the world. The pandemic has been a challenging time for everyone, and a time that people turned to doctors and medical professionals for support and answers. When the pandemic hit, Dr. Mohamed Ali was one of the first doctors who took to social media to keep the community informed and spread awareness on safety precautions to mitigate the spread of the virus. One year on, he plays a crucial role in the COVID-19 response. As a member of the Maldives Technical Advisory Group on Immunization he is leading preparations for rolling out vaccines across the Maldives from February.
Because of his passionate commitment on the frontlines of the pandemic, it is hard to imagine that he first planned to become a pilot. His curiosity about the human anatomy drove him to become a doctor. Dr. Mohamed Ali has worked at the National Centre for Respiratory Medicine since 2018. His journey began in Ukraine, in a very different culture and environment compared to the Maldives. Despite the many challenges posed in adapting, he successfully completed 6 years of University study, followed by a one-year internship in Bangladesh. Having spent 11 years gaining the necessary skills and knowledge to serve as a medical doctor, Dr. Mohamed Ali believes that his experience in a range of hospitals in different countries was vital to how he practices medicine every day.  
Dr. Mohamed Ali's wants to make a difference in people's lives, and to give the facts about disease, healthcare and wellbeing. Despite the long hours Dr. Mohamed Ali, says that he lives for seeing his patients achieve a full recovery and go home with a smile on their faces. Amid the global pandemic, he continues his work to influence his patients' behavior and advocate for prevention. He believes that with increased awareness, doctors have the ability to build a happier and healthier society, which makes more conscious decisions and choices.
As we aim to build back better from the pandemic, Dr. Mohamed Ali wants to see a more efficient healthcare system in the Maldives that is available to every Maldivian, regardless of where they live, or how much money they have.
UN entities involved in this initiative
FAO
Food and Agriculture Organization of the United Nations
IFAD
International Fund for Agricultural Development
ILO
International Labor Organization
IOM
International Organization for Migration
UNDP
United Nations Development Programme
UNEP
United Nations Environment Programme
UNFPA
United Nations Population Fund
UNICEF
United Nations Children's Fund
UNODC
United Nations Office on Drugs and Crime
UNOPS
United Nations Office for Project Services
WHO
World Health Organization
Other entities involved in this initiative