Photo Story: Growing a Home Business - Women in Holhudhoo
IOM Maldives shares a beautiful photo story of creative female entrepreneurs in Holhudhoo with a thriving home business of container gardening.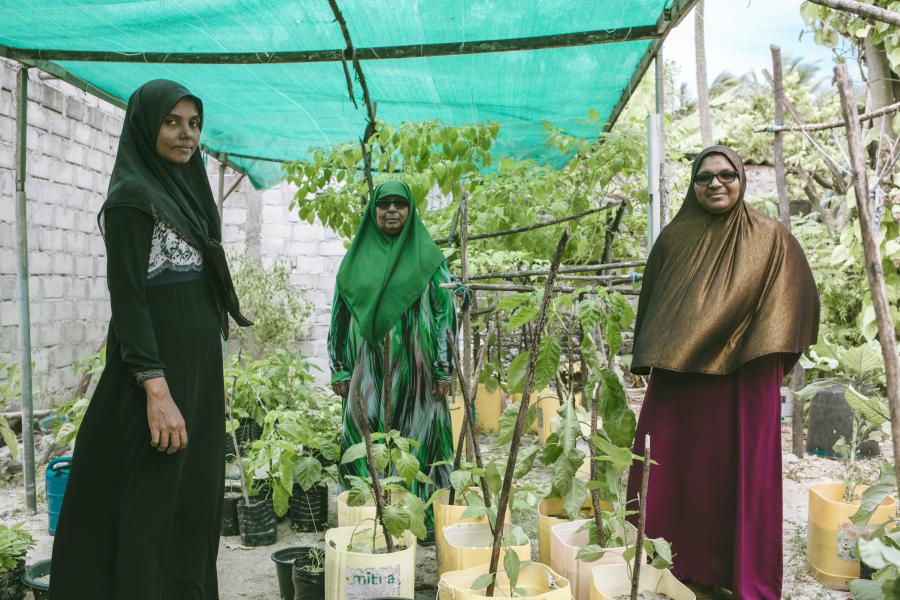 In communities where ground water salinization provides a challenge to agriculture, some women have initiated container gardening in order to sustain their livelihoods. According to the farmers in the island communities, the use of containers requires less water fertilizers. This leads to less competition for ground water resources, used for agriculture as well as for households. Access to water is scarce for the communities, especially during the dry seasons.
The following story is about three women from Noonu Holhudhoo who have turned their container gardening into a thriving entrepreneurial business. They sell plants, vegetables and flowers to people in their community, nearly islands, and the capital city Male'.
Facing the onset of climate change, women have found creative solutions to adapt to the environmental changes by using simple containers for gardening. It helps women sustain their income in their own community and prevent them from migrating to other islands in search of work.
Nadheema, a resident of Holhudhoo, started a small plant business a couple of years ago with her friend Mariyam. They are active citizens of the island and are also very much engaged in the Parent Teacher Association. They have adopted an environmentally friendly business model where they reuse 5 litre water bottles, which are usually considered household waste, for saplings. Nadheema's mother collects the bottles from selected households and transports them to her garden.
Nadheema and Mariyam are also an inspiration to other women entrepreneurs aspiring to start small community-based business in small island nations like the Maldives, which are very much affected by climate change.
"Since space is limited, we engage in recycled container gardening, in order to utilize our limited space. This way, the plants are protected from the pests and diseases which might affect them if they were planted in the ground. Even if we plant on the surface, the soil is not rich. Here, it is easy to move the plants from one place to another. Since we are also selling the plants, it is easier to plant in the containers. When the plants grow bigger, we sell it in the island and in Male'. The fastest growing plant is the scotch bonnet chilli.
We encounter challenges in marketing the plants. One chilli plant will fetch 35 Maldivian rufiyaa, but I think the price should be higher. Within one and a half months, it grows to a height where we can sell it. We have invested a lot of time and we also use organic fertilizers; all the cabbage leaves are chemical free.
During the Westerly monsoon, salt water affect the plants very much. Now we are experiencing the salt water sprays and the plants are not growing. Salt spray and wind damage the plants. After the sea wall has been built, it is much worse because the waves hit the big rocks much harder and the salt sprays increase. You can also see the guava tree in front of my house which doesn't have any leaves because of the salt spray."
Story Credit: This story was taken from the field interviews conducted by IOM Maldives as part of a study entitled "Assessing the Climate Change, Environmental Degradation and Migration Nexus in South Asia".
The report can be downloaded at the link below:
http://www.environmentalmigration.iom.int/assessing-climate-change-migration-nexus-south-asia
UN entities involved in this initiative
IOM
International Organization for Migration