Project Funded by the Joint SDG Fund Call – Component 1
This Joint Programme contributes to the operationalizing of an Integrated National Financing Framework (INFF) process in the Maldives. The Joint Programme seeks to (a) strengthen the core system of governance of planning and financing and (b) to mobilize and improve the targeting of financing towards two long term development priorities. The two development priorities are (i) climate action and (ii) reforms required to deliver quality, equitable, gender responsive and sustainable social services. The overall goal is that the population benefits from increased climate resilience and quality social services.
Complementing the ongoing Development Finance Assessment (DFA), the Joint Programme will support financing needs assessments and costing exercises to estimate the SDG financing gap taking account the impact of the ongoing COVID-19 crisis on Maldives progress towards achieving the SDGs. The Joint Programme will also consolidate the existing institutional arrangements into a full-fledged, gender balanced, INFF Oversight Committee. The Joint Programme will support capacity building for the INFF oversight committee to strengthen the core functions and to improve its effectiveness.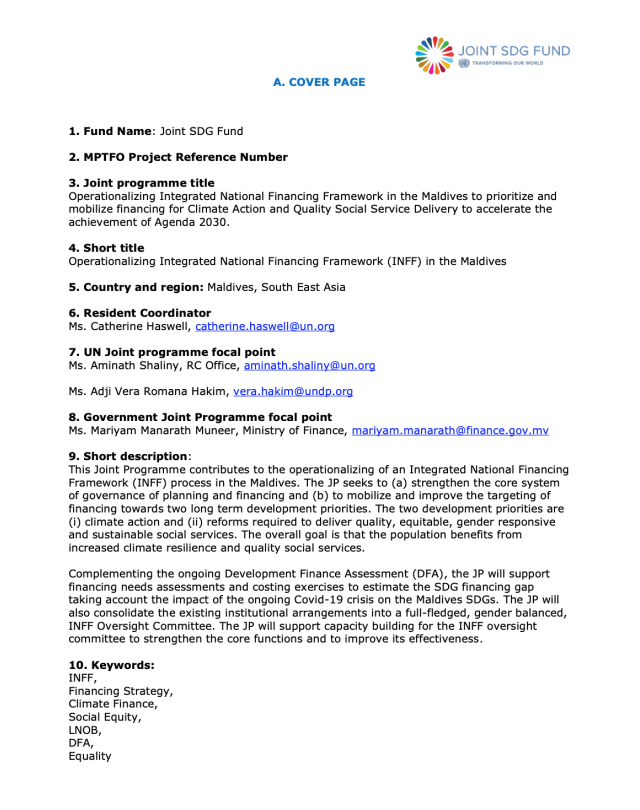 Goals we are supporting through this initiative