Story
Young people in Maldives defying one time use pads!
Collection of stories from young girls in Maldives that UNFPA and Zero Waste Maldives are working with to introduce eco-friendly alternatives to manage periods.
"I was given a menstrual cup to try after a session by UNFPA in Laamu Gan. This was the first time I heard about the alternative products available for managing periods'', said Nahudha Ahmed,  17,  student from Laamu Gan School. "I recall the friendly facilitator from Zero Waste Maldives telling me that it takes a few cycles to get used to it. At some point I thought of going back to disposable pads when I had leaks." Nahudha is a Cupvert and does not have any regrets for making the switch. In fact, it has given her double benefits as periods have become easier as she doesn't even feel it when she is having her monthly menses. At the same time doing her part to protect the environment by reducing waste.
UNFPA with partnership with Zero Waste Maldives and Society for Health Education started the pilot project to introduce eco-friendly alternatives to manage periods. These sessions cover awareness on human biology and how to use menstrual cups. This project has continued since then and is becoming popular among young people. In an island nation where Maldives is grappling with solid waste management, conserving the environment to reduce the footprint is one noble thing to do knowing that a disposable pad takes over 500 years to decompose. 
"I am an active person and I like to continue strength training and gym workouts everyday. The thought of having to skip gym during heavy flows is out of question and that is why I chose to make the switch to a menstrual cup" said Aminath Iasha, 28, a Dietician working in Male. "As a health care worker, one of the biggest concerns I have during the Covid-19 pandemic is to think about changing pads during shift work". The health-workforce in Maldives - that has been spread thin responding to the pandemic - consists of roughly 70% women according to the Statistical Yearbook 2020."After learning about how detrimental disposable pads are to the environment, imagine my joy helping the environment while saving money too."
"I love my environment," says Lathyfa Adnan from Thaa Hirilandoo "I also want to save money" she said as her main reasons to change her menstrual management options. "Using a menstrual cup is very convenient for me and it has become worry free to get through the night and also during the day." What Lathyfa likes best about the cups is that they allow her to enjoy snorkeling during menstrual periods. In a country surrounded by sea, many women hesitate to swim or enjoy the water due to taboos surrounding menstruation. For many women like Lathyfa menstrual cups offer worry free access to enjoying the beach and going for a swim. 
"One of my biggest concerns is inserting the cup properly to avoid leakage," said Nafu, 27, a tutor in Male. With the support sessions and materials from Zero Waste Maldives this fear is now overcome. One of the biggest benefits of using a menstrual cup is saying goodbye to the disposable pads. Menial activities like sleeping, working out or even walking has become much easier since I started using the cup in May 2019."
"After looking into sustainable period alternatives online, I chose cloth pads'' Sara Hamza, Scuba Dive Instructor in Male told us. "It has been a year and a half since I started using it. I carry it around in a small pouch until I can wash it. After rinsing it under running water, I toss it in the washing machine with the rest of the laundry"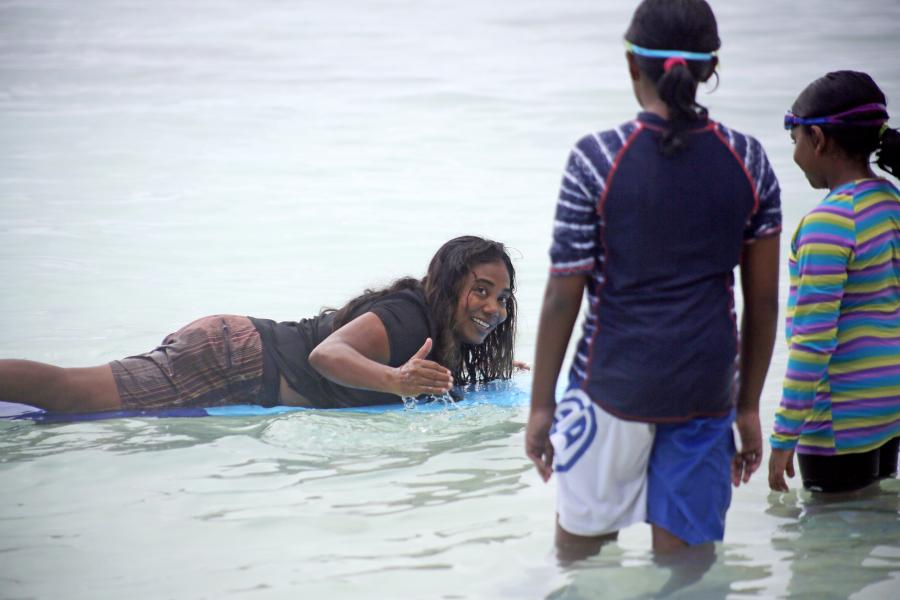 "I used menstrual cups for seven years now," stated Shaziya Saeed (Shaazu), Dive Instructor/Surfer and one of the iconic women who loves water and the environment. As a pro, she now gifts menstrual cups to friends and directs them to Zero Waste Maldives to introduce eco-friendly options to managing periods. "In the archipelago, our lives depend on the reefs and oceans. There is an urgent need to reduce and minimize waste. Everyone can do their part", she said. 
Menstruation is still a taboo in many countries including Maldives, and very little information on the topic is provided through the school system as a result. It was astounding to know parents from Laamu Atoll after their session were valuing the information that they themselves had received during their life for the first time. Breaking the taboo on periods is part of the mission for UNFPA, which promotes sexual and reproductive health, and our civil society partners. These sessions are carried out by young people themselves from Zero Waste Maldives and Society for Health Education. Under the ongoing programme, UNFPA Maldives has added washable cloth pads to the eco-friendly menstrual management alternatives in Maldives in addition to the menstrual cups.
UNFPA works to protect the health and rights of young girls through access to sexual and reproductive health, information and services; comprehensive sexuality education; and through encouraging girls' empowerment and participation in the decisions that affect their lives. 
UN entities involved in this initiative
UNFPA
United Nations Population Fund