"What makes me the happiest is not what I have achieved, it is what I have given back"
As we continue the fight against COVID-19, we remain in solidarity with the incredible people on the frontlines of the response.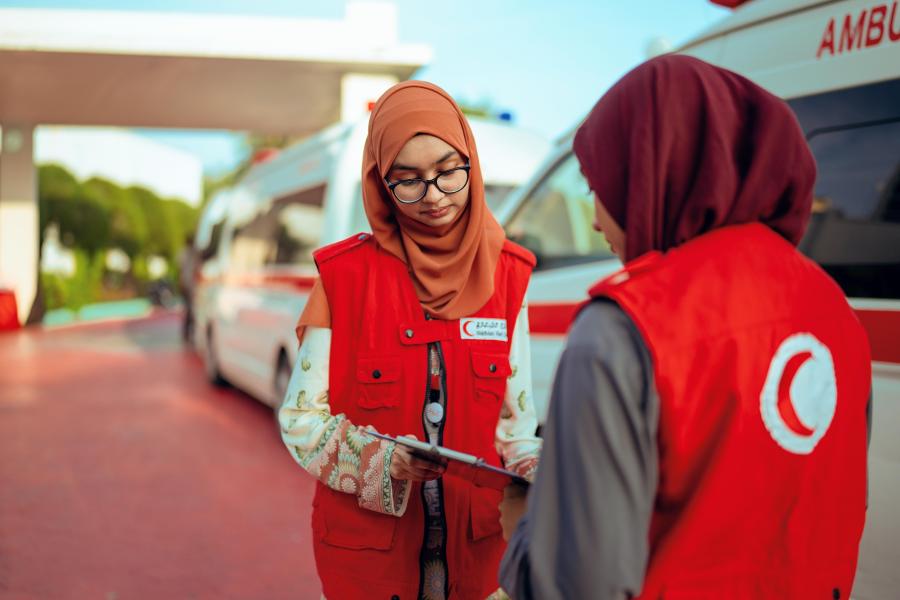 Photo | Publicity Bureau
2020 was a difficult year for everyone, which impacted us all in different ways. For some, it was a year of fulfilling work to help their community.
Aishatha Naura Naseem is a volunteer at Maldives Red Crescent (MRC). If you call 1425, you might just hear Naura's voice. She provides psychosocial support to COVID-19 patients as part of the Rapid Response Teams (RRT) functions under the Health Emergency Operations Centre. Having lost her job at the beginning of 2020, Naura's was determined to make a difference for humanity.
As a volunteer on the frontlines of the COVID-19 response, Naura finds comfort in being able to help and support people get through the unique difficulties faced due to the pandemic. She believes that by giving back, she has also had an opportunity to learn and build her experience and confidence.
In addition to her volunteer work, Naura is a STEM teacher for primary school children. She is passionate about teaching and enjoys interacting with children. She strongly believes that learning is a continuous journey and tries her best to teach her kids the same principle. 
2020 proved to be a traumatic year, but Naura refused to give up hope. Volunteering gave her a new perspective, and she believes that her work as a volunteer has taught her key skills and knowledge which can help her in her career as a teacher.
Her hope for the future is to see a world where helping each other is considered uplifting and empowering. She ended her story perfectly by saying, 'What makes me the happiest is not what I have achieved, it is what I have given back.'
UN entities involved in this initiative
FAO
Food and Agriculture Organization of the United Nations
IFAD
International Fund for Agricultural Development
ILO
International Labor Organization
IOM
International Organization for Migration
UNDP
United Nations Development Programme
UNEP
United Nations Environment Programme
UNFPA
United Nations Population Fund
UNICEF
United Nations Children's Fund
UNODC
United Nations Office on Drugs and Crime
UNOPS
United Nations Office for Project Services
WHO
World Health Organization
Other entities involved in this initiative