Story
Listening to young people's voices – climate change and climate action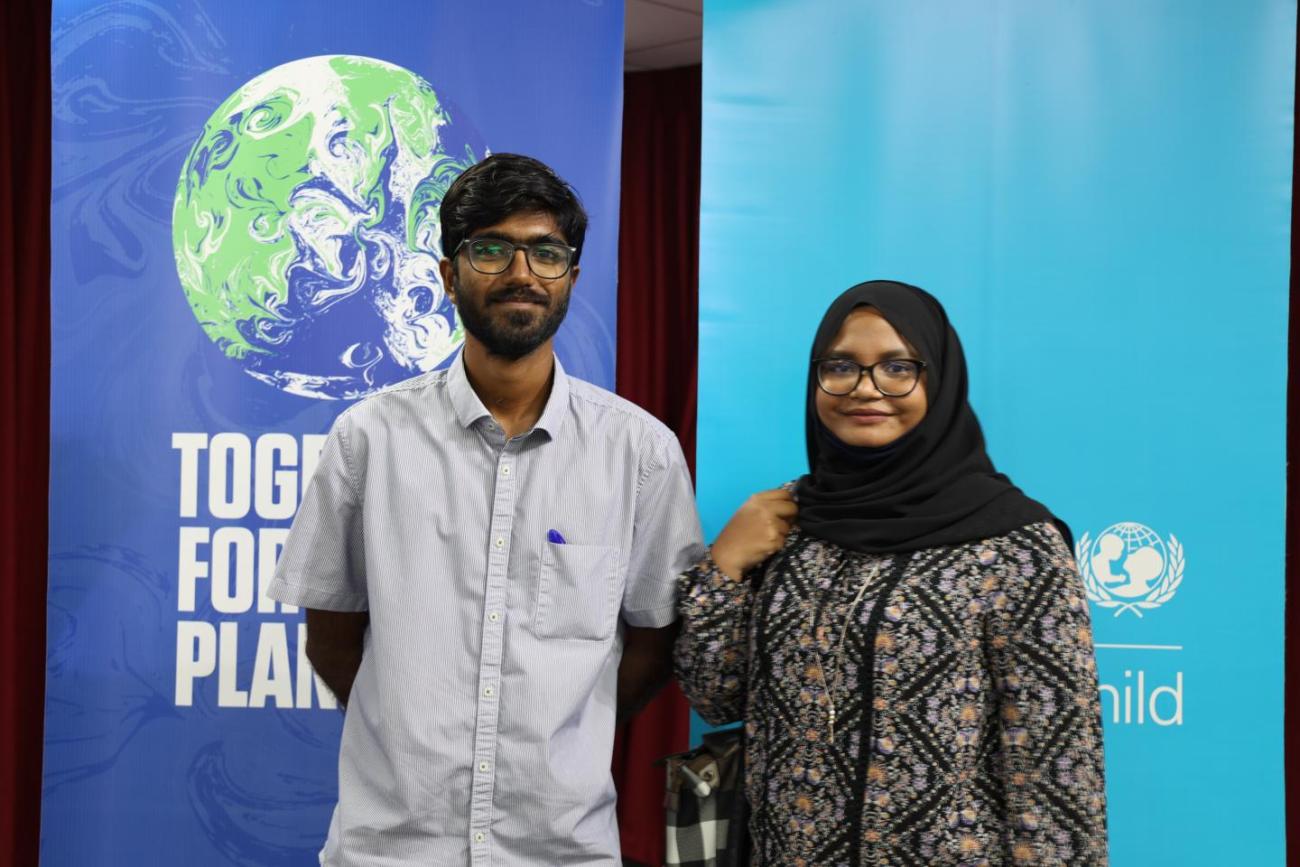 "Our Climate, Our Present, Our Future: a small island developing state (SIDS) perspective"
On October 20th,  in partnership with the Ministry of Environment, Climate Change and Technology, and in collaboration with the Ministry of Education, UNDP and the UN family in the Maldives, UNICEF co-hosted a hybrid event, "Our Climate, Our Present, Our Future: a small island developing state (SIDS) perspective" with 150 participants, mostly adolescent girls and boys and young people from the Maldives, and also some participants from other small island developing states (SIDS).  As the world is mobilizing around the COP26 in Glasgow, this was an opportunity to hear from young people most affected by the climate change. 
In a recent publication, UNICEF has gathered compelling evidence that the Climate Crisis is a Child Rights Crisis. Every child on earth is exposed to at least one climate and environmental hazard, such as heat waves, cyclones, droughts or floods. There is no secret that with the sea levels rising, low lying island states, such as the Maldives, are on the forefront of climate change.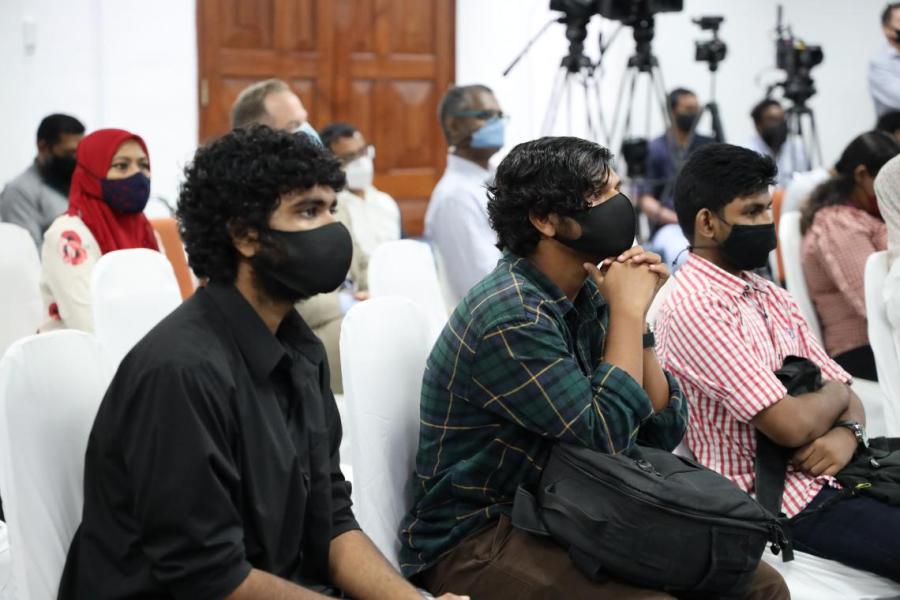 While speakers addressed eloquently the impact of climate change on the Maldives and other small island developing states (SIDS), this was also an opportunity to inspire action and instill hope by highlighting the agency of young people as agents of positive change and showcasing innovations and actions from the public and private sector.  It was great to hear from young people asking panelists about how they can be more involved including in relation to influencing the private sector practices.  Or what can be done to tackle waste management more efficiently and with less damage to the environment?  
In a recent survey of young people in South Asia, 77% of young people in Maldives said that they were worried about the effects of climate change, and 92% said they wished to take more action, if provided with support. Many are already taking action.
For instance, one of the young participants, Zeeba has just shot a video of herself studying under water to call attention to her country sinking. Others young people across islands are doing beach clean-ups, are concerned about the health of coral reefs and mangroves, are using less plastic,  are planting trees and protecting native trees, making decisions to ride a bike instead of a motorbike and advocating for clean and renewable energy. 
This video was shot along with 19 others young people participating in a workshop on climate change advocacy using videomaking, hosted by UNICEF in partnership with One Minute Junior Foundation in September/October of this year.  More videos can be found here.
One of the key learnings that came to fore and was highlighted from organizations in the Maldives, such as Save Kudafari and Precious Garbage, or the Ocean Clean Up in the Seychelles or Youth Climate Lab in Fiji, is the importance of organizing, the sense of community coming together regularly taking joint actions to preserve the environment. In the scale of things, sometimes individual acts may not seem enough to address the complexity of climate change but as many speakers highlighted, every action matters.
"We can overcome this climate crisis, if we do all we can and I believe that meaningful participation of women, young children is also really important.  I think if we work together, and if you are persistent if you are resilient and if you have the will to bring the change, you can definitely do it. Every one of you, you can use your voice."

Ameera Latheef – MNU student and representative of 'Dhihdhoo Kurimagu'.
In the meantime, UNICEF Maldives is actively engaging in climate change programming, working with the Government to support the introduction of climate education into the school curriculum, and will be engaging adolescent girls and boys and young people to build their advocacy skills, reduce plastic pollution through behavior change campaigns, expand green and blue skills for young people and, through programmes like UPSHIFT, a programme to promote social innovation and entrepreneurial action by young people, to provide them with the tools, support systems, space and confidence to take innovative action to build climate resilience.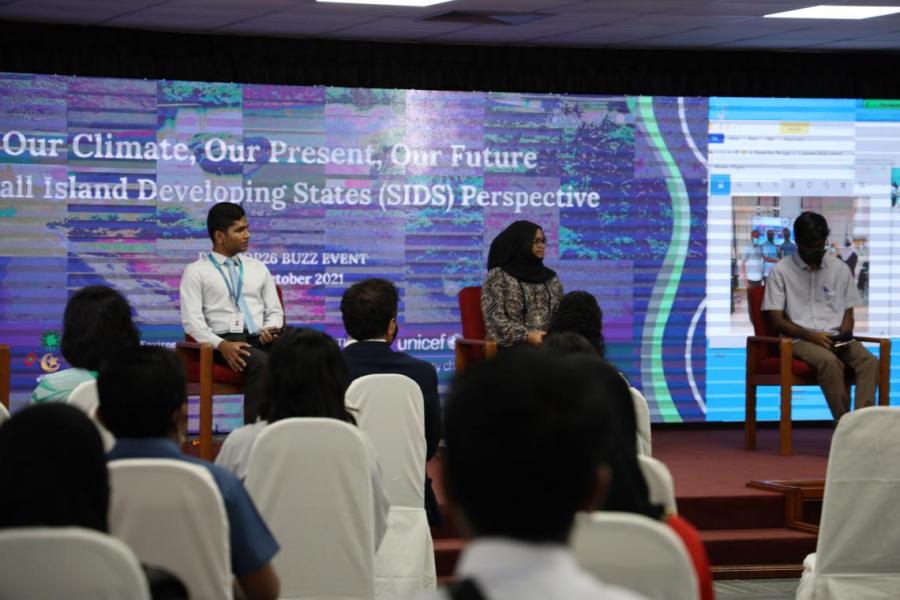 While Maldives contributes only 0.003% to global greenhouse gas emissions, it has made a commitment to net zero emissions by 2030.   As to the COP26, there are high expectations of states and businesses to step up and take action and make real and tangible commitments and uphold priorities identified by children and young people around the world.
"We want to be a generation that takes care of the planet" 

Hassan Sodhig – founder of Save Kudafari – an environmental NGO 
Young people are taking action at their level, how about world leaders?
Please follow the link to the agenda of the event, list of speakers and topics. 
UN entities involved in this initiative
UNDP
United Nations Development Programme
UNICEF
United Nations Children's Fund