Press Release
Diabetes Society and World Health Organization jointly celebrate World Diabetes Day 2021 across Maldives
04 November 2021
Diabetes Society of Maldives and World Health Organization Maldives are joining forces to commemorate World Diabetes Day starting from 10th November 2021 in Alif Dhaalu Dhangethi and will be celebrated across all islands of Alif Dhaalu Atoll. The theme for World Diabetes Day 2021-23 is 'Access to Diabetes care."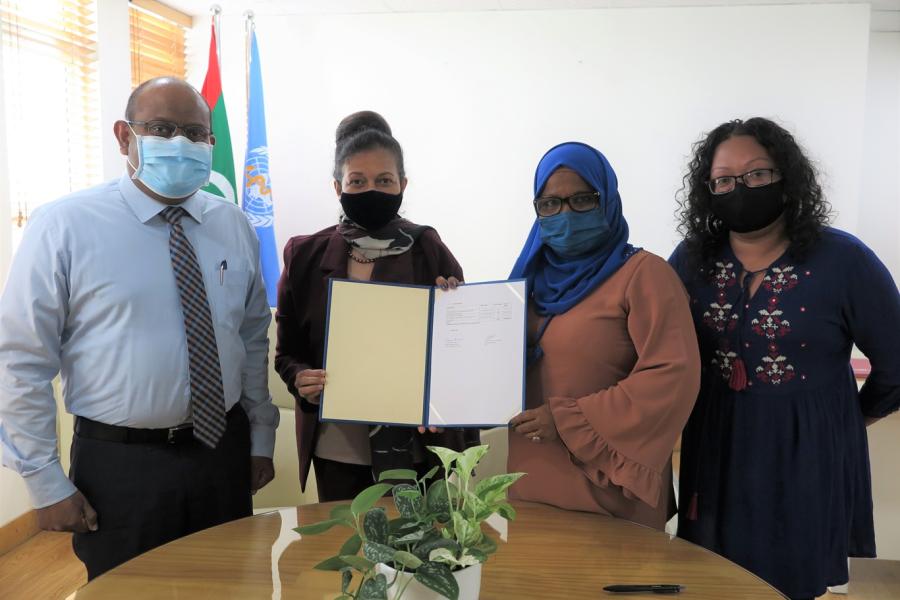 An array of activities have been planned across five days in these islands to commemorate the occasion, with coordinative support from partners such as Eye Care Opticals, Society for Health Education (SHE), Health Protection Agency (HPA), Glow Fit Gym, Dhangethi Council, Dhangethi Health Centre, Island Councils, Schools, and locally based Women's Empowerment Committees. Activities include Diabetes awareness and screening, eye screening for diabetic patients, mental health sessions, dialogue with young leaders and numerous physical activities (such as Diabetes Day Run, Zumba and Aqua aerobics). The activities will conclude with a Forum on Access to Diabetes Day for stakeholders.
"World Diabetes Day is a global occasion on which people with diabetes, health professionals, diabetes advocates, media, the general public and government organizations unite to raise awareness on diabetes. Your participation – both in the build-up to and following 14 November – is key to the success of the campaign." said Aishath Shiruhana, CEO of Diabetes Society Maldives. "Taking part can be exciting and hugely rewarding"
"The starting point for living well with diabetes is an early diagnosis – the longer a person lives with undiagnosed and untreated diabetes, the worse their health outcomes are likely to be." said Dr Nazneen Anwar, WHO Representative to Maldives, "Diabetes is preventable, treatable and it's onset can be delayed through healthy lifestyle changes. WHO is delighted to support Diabetes Society of Maldives in this endeavor to raise awareness and instill good practices such as healthy diet, physical activity, usage of medication and importance of regular screening and treatment for Diabetes within our communities."
14 November of each year marks the celebration of World Diabetes Day. Established in 1991 by the International Diabetes Federation with support from WHO in response to growing concerns about the health and economic threat posed by diabetes, World Diabetes Day became an official UN day in 2006.
Celebration of World Diabetes Day each year promotes universal health coverage for affordable and equitable access to diabetes management, including improving the knowledge and capacities of people with diabetes and their families to take charge of their own care, to reduce economic hardship in households which have few strategies for coping with the economic burden of diabetes. During a global pandemic which has already taken the lives of well over a million people; people with diabetes are seen to be paying a particularly high price. Not only do they have a higher risk of severe COVID-19 disease and death when infected, globally many are observed to have difficulty accessing the treatment they need due to disruptions to essential health services.
WHO estimates that 6% of the world's population has diabetes. The total number today is four times what it was in 1980. The gravity of the situation demands a strong, united response from all organizations working in the areas of monitoring, prevention and treatment of diabetes.
UN entities involved in this initiative
WHO
World Health Organization
Goals we are supporting through this initiative