Press Release
Governments of UK and Australia Extends Support to UNDP's Third Integrated Governance Programme for the Maldives
30 July 2022
Male', 4 August 2022: The United Nations Development Programme (UNDP) in the Maldives has signed with the Government of United Kingdom (UK) and the Government of Australia contribution agreements to its new 5-year Integrated Governance Programme (IGP)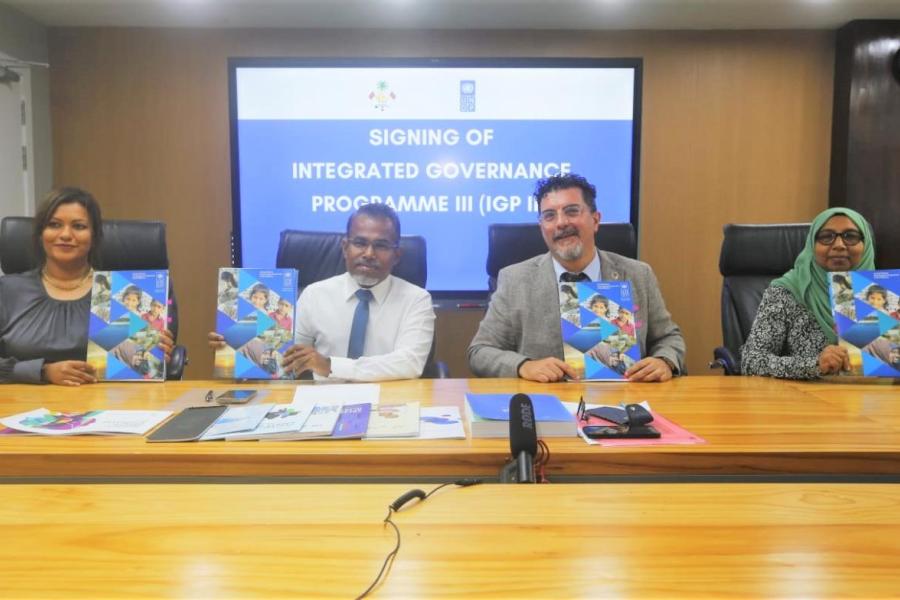 The new Integrated Governance Programme - IGP III, reaffirms the long-standing partnership between Maldives and development partners, building on several areas of support with an accelerated focus to channel development cooperation through UNDP's newest offer of support to the country as outlined in the Country Programme for Maldives 2022-2026. 
UNDP has co-designed its Governance Portfolio with key governance stakeholders in the country, and benefits from the advise and oversight of a representative board, co-chaired by UNDP Resident Representative in the Maldives, Mr. Enrico Gaveglia, Attorney General His Excellency Ibrahim Riffath, Minister of Gender, Family and Social Services, Her Excellency Aishath Mohamed Didi and the Chief Executive Officer of the Local Government Authority (LGA), Ms. Afshan Latheef.
Under this integrated platform of partners in which civil society organizations and representatives of rights-holders also participate, the programme aims to achieve the following outcomes:
I.         Open, decentralized, and gender-responsive governance systems;
II.        Equitable access to justice and human rights; and,
III.       Empowered, cohesive and resilient communities.
The support of the Australian Department of Foreign Affairs and Trade to IGP III, has a distinct focus on gender equality and disability inclusion, access to justice, grassroots movements and engaging young people, and will enable interventions across all three outcome areas to be undertaken in close collaboration with government stakeholders.
"As a proud partner in the Integrated Governance Program since 2012, Australia has been privileged to be part of Maldives governance reform journey," said Australian High Commissioner to the Maldives H.E. David Holly. "Effective, accountable and inclusive governance systems – from the national to the grassroots – allow us to achieve our full potential as nations and individuals. We look forward to working, under the roadmap provided by IGPIII and alongside UNDP and the Government and citizens of Maldives, to help further embed these principles."
The support from the Government of UK, channeled through the Conflict, Security and Stability Fund, will aid in strengthening and sustaining the progress on the Legal and Justice Sector Reform Agenda of the Maldives' Government. Key objectives include enhancing institutional resilience and local governance through citizen participation and empowerment, towards a more resilient, socially cohesive, and tolerant community.
"Our actions are always more powerful and effective when we find ways to harmonise them with the efforts of others and look for linkages across sectors and the community. So, I am really pleased that we have taken this step, with Australia, to back UNDP's approach to enable decentralization, putting people and their rights at the heart of the matter. I think the oversight the high-level Board will provide should really help to ensure effective, inclusive delivery," said H.E. Caron Röhsler, British High Commissioner to the Maldives.
Australia and UK have been longstanding partners of UNDP and the Maldives – a solidarity that has enabled UNDP to provide dedicated need-based support towards consolidating democracy in the Maldives. This includes amplified efforts to reform the judiciary, and the legal and justice sector; support towards creating an independent and empowered civil society and media; formative and sustained support to decentralization and local governance; and support to advancing the country's efforts towards women's empowerment and gender equality.
"With the endorsement of the Integrated Governance Programme III, UNDP's support to Maldives shapes out a new geometry of partnerships across government and development partners willing to accelerate results and operate at a sustained scale in key levers such as data-driven, inclusive, and anticipatory governance; as well as enhanced fiscal and financing options for an effective decentralized public administration. We see in the IGP the creation of a new space for participation for policy making which is inclusive and caring to all," noted Enrico Gaveglia, UNDP Resident Representative in the Maldives.
UN entities involved in this initiative
UNDP
United Nations Development Programme