Press Release
Unintended and Unwanted? 2 Babies Taken to State Care Every Month
23 August 2022
"Although we are privileged, if we look around our communities we see people impacted by such issues - and it has a generational impact on people and Nations" - UNFPA Maldives Country Director Kunle Adeniyi stresses the impact of unintended pregnancies on our community.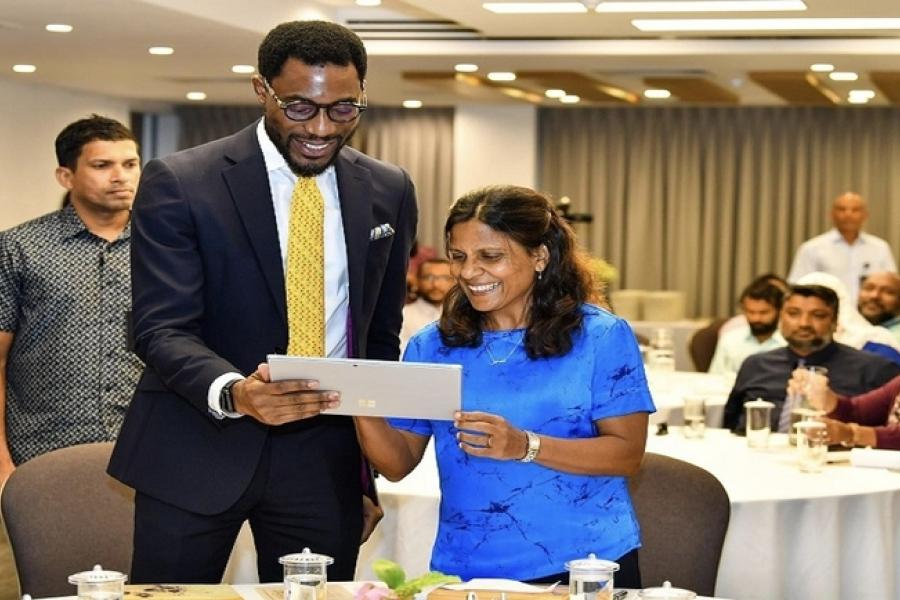 UNFPA's 2022 State of the World Population Report highlights that half of global pregnancies are unintended. In the Maldives, 24 babies were taken into state care in 2021 alone - which accounts to 2 babies per month - a crisis unfolding before our eyes. This year's report titled "Seeing the Unseen: The case for action in the neglected crisis of unintended pregnancy", focuses on the global crisis that so many women and girls face on a daily basis. The report was launched on 7th of June 2022 in the Maldives by the First Lady Madam Fazna Ahmed. Coinciding with the call for action, the Villa College Institute of Research and Innovation (IRI), in collaboration with UNFPA conducted a high level panel discussion, highlighting the Maldivian context and leveraging policy makers to take much needed action.
All Panelists stress that the Maldives situation is a crisis which needs urgent action. Dr. Ibrahim Zakjariyya Moosa, Vice Chancellor of the Islamic University of Maldives, emphasised how the Islamic Shariah forbids subjugation of women and obedience towards husbands without consent. Moreover the Islamic jurisprudence also provides an avenue for planned families in the society's progress, a concept which is often debated and hinders women's access to safe contraceptives.
For the women affected, the most life-altering reproductive choice, whether or not to become pregnant – is no choice at all.  Ms. Safiyya Moahmed Saeed, Deputy Minister for health highlights this and the fact that girls in the Maldives are often asked and pressured into marriage, when they are going to have a baby and how many - burdens the girl into adulthood and beyond.
Humaida Abdul Gafoor also echoes this sentiment in which she shares her independent qualitative research into women's plight and lack of access to reproductive services - duty bearer's inaction and neglect has led to lack of information and services, especially for young people's autonomy to every part of the journey to pregnancy and parenthood. As such, we cannot blame or shame young people for adult's inaction. The autonomy for women and girls is hindered when they are unable to access safe and proper contraceptive methods.
Mohamed Shihab, Minister of State for Gender, Family and Social Services, nicely weaves the story of Haseena - a rights holder and an average woman living in our society. She bears a child at age 14 years, and gets rejected by her own family, neighbours and community - having to live on streets. She has no choice but to resort to sex work to feed herself and her child. Eventually her child also faces the same fate having to be married-off out of court at age 15, to a substance user. All of this leads to further rejection and marginalization from within the society. Such cases are common in the Maldives. They are all stuck in a life of violence and a never ending cycle of generational abuse within her family and community.  How can we as duty bearers and service providers adequately offer her a dignified life ? Urgent action is needed now to alleviate such barriers and change the harmful norms in our society - to empower women like Haseena to take charge of her own life.
"We want the society to view women as a whole - not just their pregnant bellies and babies" - stresses Shadiya Ibrahim, Head of Office of UNFPA Maldives. Our hope is that with these discussions we can bring a ripple effect where policy makers are better aware of the lived realities of women and girls in our society, to mitigate unintended pregnancies and provide necessary services for all. Let us all view women and girls as whole human beings - with their right to a dignified life free from violence!
UN entities involved in this initiative
UNFPA
United Nations Population Fund