Story
Hamsha Hussain, Co-Founder of Zero Waste Maldives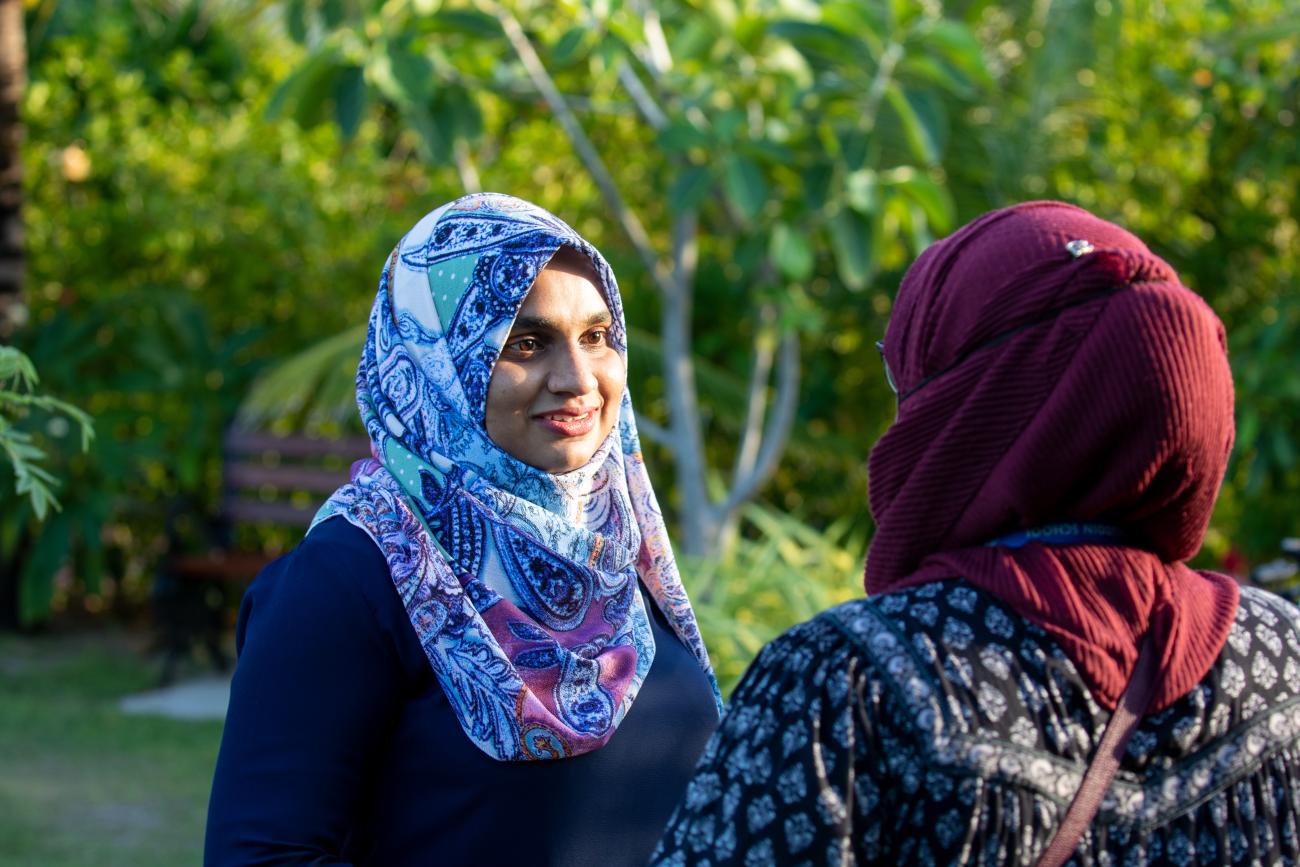 On behalf of International Women's Day 2023, we bring to you the inspirational stories of women who are working in various fields.
Hamsha Hussain is a driven and passionate climate advocate and co-founder of Zero Waste Maldives, a non-government organisation aiming to promote a 'Zero Waste Low Impact Lifestyle in the Maldives' with a vision to eliminate waste in our environment through education and awareness, provision of alternatives as well as 'waste to wealth' programmes.
Hamsha is an architect by profession with a keen interest in architectural heritage. She did her Bachelor of Architectural design from RMIT University in Melbourne, Australia.
As a women living in a country facing an existential climate crisis, Hamsha has been exploring solutions to reduce waste. As such, Hamsha has the opportunity to partner with UNFPA on a pilot project that links waste reduction and climate action to female menstrual health – the Cupvert Project. This project has opened up a platform to raise awareness on these issues and introduce sustainable solutions to meet the demands of women and girls. Talking about her professional life, Hamsha says, "I have mostly had positive experiences in my career and have not faced significant challenges due to my gender. However, there have been instances where I have felt excluded in male-dominated environments, which can be intimidating. In such situations, I have been lucky to receive valuable advice from my colleagues on how to handle the situation."
Hamsha is an inspiration to many young women and girls. Her work has contributed immensely towards breaking the stigma and creating space for conversations around reproductive health, especially amongst young people, marginalised communities, including persons with disabilities. In 2021, she hosted a webinar on Menstrual Health Day, the first public discussion on menstrual health together with UNFPA and SHE. The same year Hamsha and her team hosted a session for the deaf community, introducing issues of reproductive health and sustainable period products, furthering efforts to expand critical information to everyone and to ensure no one is left behind. She recounts these sessions as some of her proudest achievements. Going back to her academic roots, Hamsha also recollects the time she worked to see the reassembly of Kalhuvakaru Mosque in 2019 as one of the highest achievements of her professional career as an architect.
As a women supporting women, especially young women and girls, this is what Hamsha wants to say "It is really easy to lose yourself in something that you are passionate about. But always remember to take care of your physical and mental well-being."
UN entities involved in this initiative
UNFPA
United Nations Population Fund